HEAL
Medicine of the Highest Order is the founding ideology for the University of Rochester Medical Center.
It is also the University standard for how we train current and future care providers; treat, cure, and prevent disease; and conduct the research that gives hope to generations of patients. Because of the generosity of University alumni, grateful patients, and other friends The Meliora Challegne broadened UR Medicine's regional footprint and enhanced its global reach.
"The only wealth that you get to keep is that which you give away. I know someday I'm not going to be here, but this building will be here, and that's our ongoing wealth."
— ROCHESTER ENTREPRENEUR TOM GOLISANO ON THE NEW GOLISANO CHILDREN'S HOSPITAL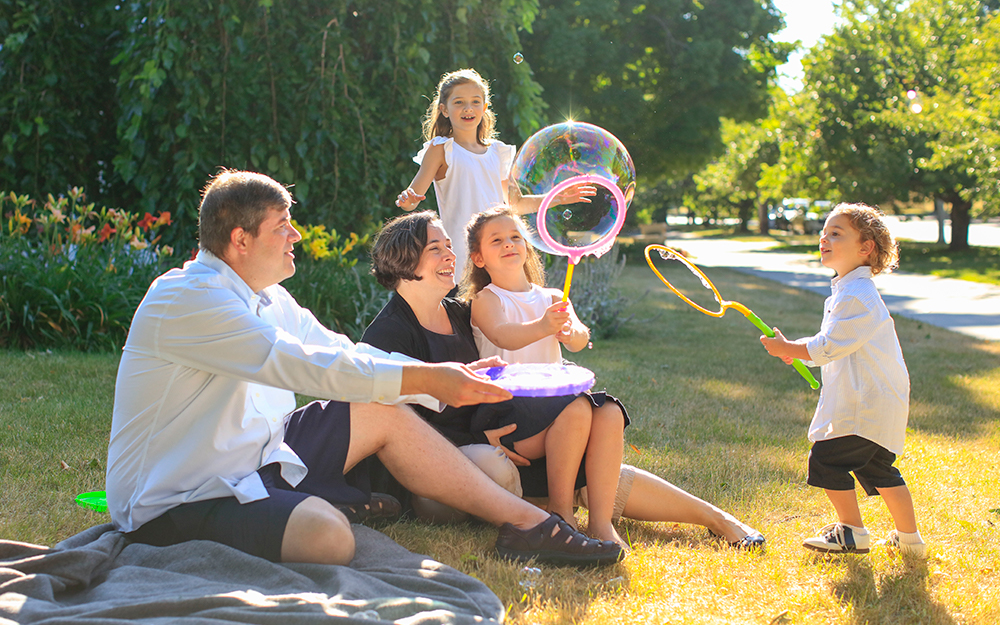 Kimberly Holmes with her husband, Brendan, and children, Victoria, Caitlin, and Liam.
Research at the Wilmot Cancer Institute is helping us target and treat cancer in new and powerful ways.
Making soap bubbles with her family is on a long list of things Kimberly Holmes is able to do thanks to the precision medicine that helped her beat acute myeloid leukemia (AML).

A resident of Corning, NY, Holmes was eight months pregnant with her son, Liam, when she was diagnosed with AML. But the devastating news was matched by the Wilmot Cancer Institute's determination to cure. A molecular analysis uncovered a gene mutation that qualified her to enter a clinical study for a targeted, experimental treatment—care that didn't exist anywhere else in the Finger Lakes region.

On June 28, 2016, Holmes celebrated Liam's third birthday and three years of being cancer free. Because of the institute's progressive approach, research, and regional reach, she can celebrate many more birthdays, and lots of other family moments, big and small.
—Matt Cook
"It has been amazing watching the progress in cancer research and patient care at Wilmot since 1980. We are thrilled to participate in its continued progress. Cancer is a disease that cannot be toppled by a single person, family, or institution. We all have to join together in support of this effort."
— JUDY WILMOT LINEHAN ON BEHALF OF THE JAMES P. WILMOT FOUNDATION