CREATE
Creativity is universal, cutting across the breadth of humanity and all human endeavors. It's a channel for communicating how we see the world—and a power for changing it.
Campaign support for our creative spirit provided an expansive palette for aesthetic originality, the instruments for musical invention, and the tinder for digital ingenuity and entrepreneurial enterprise. These mediums have helped shape the University's cultural environment and deepened our relationship with the larger Rochester community.
"A great tradition in this country is that we try our best to improve the world we inherited for the generations that will follow us. Supporting a vibrant center of innovation and discovery like the University of Rochester is simply the best way I can fulfill this obligation."
— UNIVERSITY TRUSTEE ED HAJIM '58, BOARD CHAIR EMERITUS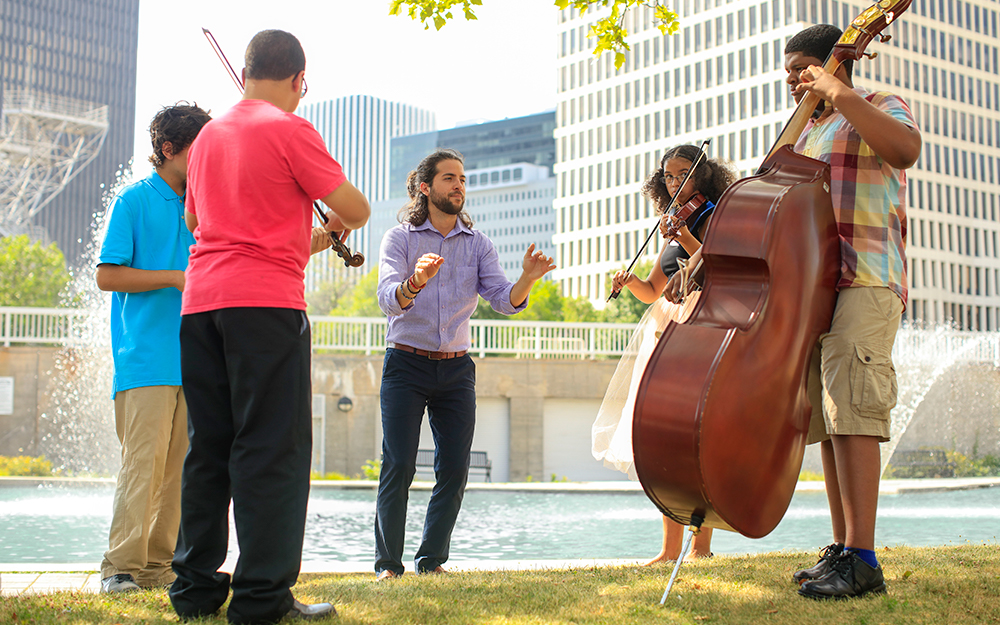 ROCmusic Director Alexander Peña '10E, '13E (MM) conducting a group learning session.
A community partnership is transforming lives, and neighborhooads, through the power of classical music.
A student trading TV time for a night with the Rochester Philharmonic Orchestra feeds the soul of violist Alexander Peña '10E, '13E (MM). That's because it is the kind of change he hoped to inspire when he agreed to be the director of ROCmusic.

A partnership that comprises six community organizations, including the Eastman School of Music, ROCmusic is a classical music education program for urban youth living in economically disadvantaged Rochester neighborhoods. The tuition-free program covers meals, instruments, and transportation. But for Peña, the most important offerings are access and opportunity, both of which he's working to increase.

Peña sees the music as a vessel for social change. As he imparts his musical and life knowledge, he's also shaping a new generation of community members.
—Matt Cook
"There is tremendous momentum at Rochester, and we are advancing on almost every front."
— UNIVERSITY TRUSTEE TOM SLOAN '65, '67 (MS) AND LINDA SLOAN '67