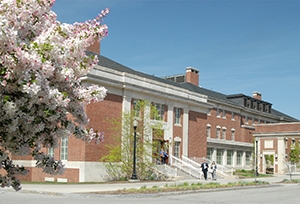 An anonymous University of Rochester alumnus has made the largest single gift commitment ever to the University's Simon Business School. The $20 million deferred commitment will provide unrestricted support for the Simon Business School's mission and will help ensure the professional success of future Simon students and alumni.
University President and CEO Joel Seligman announced the gift commitment at a Board of Trustees meeting on March 10. Seligman noted the unprecedented pledge propelled the Simon Business School past its $85 million fundraising goal for The Meliora Challenge: The Campaign for the University of Rochester, which formally concludes on June 30 this year.
"This is a historic day for the Simon Business School," Seligman said. "Today, an anonymous business person, motivated by a desire to strengthen the Simon School, joins a distinguished list of philanthropists whose generosity has helped build and shape this University.
"To maintain our preeminent position among our peers, we must be able to compete with the best business schools for outstanding faculty and students," Seligman said. "I am deeply grateful for the donor's trust and confidence in Dean Andrew Ainslie and the future of Simon Business School."
Dean Ainslie said the Simon Business School has a tradition of innovation in business education and will continue to be a pioneer using a proven analytic, economics-based approach. "This exceptional gift, from an extraordinary individual, will help us ensure the prosperity of the School in the years to come," Ainslie said. "On behalf of the entire Simon Business School community, I want to express my sincere gratitude to the donor for this incredibly generous gift."
University Trustee Janice Willett '78S (MBA), who serves as campaign chair for the Simon Business School and is a member of the Simon Advisory Council, said the gift affirms what 15,000 Simon alumni already know—that Simon is on the move.
"This extraordinary gift is a great tribute to a distinctive program that over the years has given so many of us a coherent framework for addressing business challenges in all their complexity," Willett said. "It is gratifying and humbling that one of our alumni has achieved such a significant measure of success and has chosen to share that success with the Simon School. I am enormously grateful on behalf of Simon alumni everywhere and the generations of students to come."
Consistently the Simon Business School has ranked high on the lists of top business school programs. Bloomberg Businessweek ranks Simon in the top ten for job placement three months post graduation and number three for return on investment among private U.S. business schools. Simon is also ranked number eight among the 10 most diverse MBA programs by U.S. News & World Report. Simon Business School faculty continue to make their mark as founders and editors of some of the world's most highly acclaimed business publications, including the Journal of Financial Economics, the Journal of Monetary Economics, and the Journal of Accounting and Economics.