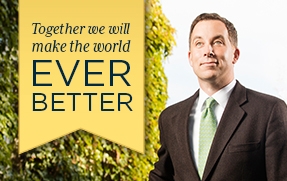 Everyone learns in a different way. For experiential learners, those who learn by doing, diving head first into whatever happens to be in front of them is the way they figure out how to navigate the world.
It's a style that suits Matt Tipple '12S (MBA). With regard to the business world, it's also one he promotes as a mentor to students at Simon Business School.
Tipple, who is vice president for middle market banking with Chase, helped launch the Simon Business School Venture Capital Fund in 2012. The student-run entity provides experiential learning opportunities focused on entrepreneurship and venture capital investment. Simon MBA students interact with entrepreneurs, present to advisory board members, directly participate in investment decisions, and provide ongoing monitoring and analysis of investments. Those advisory board members, including Tipple, serve as mentors.
Tipple knows first hand the transformative nature of having a mentor early in one's career. He still speaks fondly of his first job out of college—at a financial startup called eSecLending. Tipple still counts eSecLending's founder, Olympic luger and entrepreneur Ty Danco, as a mentor.
"Ty has shown me that it is important to be smart about whatever you do and that you can accomplish great things if you set your mind to it—all while being good to your family and colleagues," Tipple said. "Regarding the Fund, I think it's special in that it encourages students to take risks, start businesses, and hopefully achieve great success," Tipple said.
Tipple now sees the Fund as an opportunity to guide Simon students. He currently mentors about half a dozen, and connects with them whenever he can—sometimes in-person, other times on the phone or through text messages.
One of those students, Moe Shaikh '16S (MBA), credits Tipple for encouraging him to pursue his MBA at Simon. "Matt is outstanding. He knows people, understands them, and can talk about what is going on in the world and Rochester's place in it," said Shaikh, who grew up in Brooklyn, and met Tipple at a Simon dinner during Meliora Weekend 2014. The two bonded immediately.
"He promotes not just academic learning, but experiential learning," Shaikh continued. "I admire Matt and see him as a mentor, but in an informal way. I'm very comfortable talking to him about my challenges. He is a great listener and I appreciate that."
Tipple understands the importance of community and his involvement is not limited to Simon. He supports the University through his membership in the George Eastman Circle. He also serves on the board of trustees at the Strong Museum of Play and the board of directors at Junior Achievement Rochester.
"I believe that if we want to have a great community, we all have to contribute," he said.
To learn more about how to support Rochester students, click here.