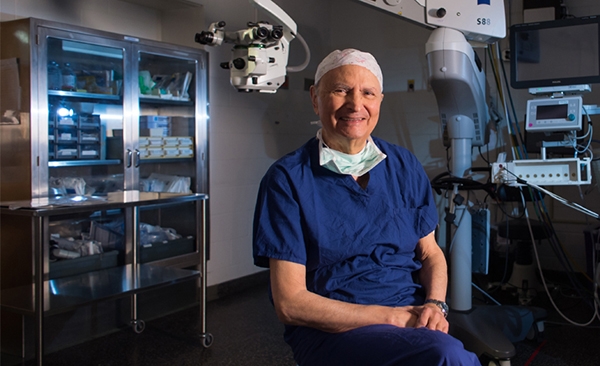 It isn't uncommon for James Aquavella, M.D., to go home with lipstick on his face. Perhaps more surprising, it was an occurrence his late wife, Kay, delighted in teasing him about.
But for Dr. Aquavella, an internationally recognized corneal surgeon who pioneered the use of corneal transplants on infants, being the target of gratitude from young mothers is part of the job.
Up until about 15 years ago, there was nothing that could be done for a baby who was born blind. Enter Dr. Aquavella and more than 40 years of research. With the help of an associate, he developed a keratoprosthesis, which is essentially an artificial cornea. Dr. Aquavella performed the delicate procedure on his first infant around 2003. Now, at the David and Ilene Flaum Eye Institute, Dr. Aquavella has a wall covered with photographs of his little patients at various stages of treatment.
"Every little bit of sight that we can achieve in a child's developmental period is critical," said Aquavella. "In the horrible cases where the results are short-lived, giving an infant sight for periods of six months to a year or two is fantastic. Even in the absence of sight later on, having time with that ability enables and promotes mental growth."
The "we" Dr. Aquavella refers to is a team of eye specialists, who he relies on to help determine if the surgery has a chance of success. While teamwork is critical for Dr. Aquavella to successfully treat patients, it is because of his decades of research that the procedure is even possible.
Research at the Flaum Eye Institute, in addition to having a cadre of preeminent physicians, has always been deeply important to the Aquavellas. To honor their shared passion, and the memory of his wife, Dr. Aquavella created the Catherine E. Aquavella Distinguished Professorship in Ophthalmology and the James V. Aquavella, M.D. Professorship in Ophthalmology.
"Flaum is competing with Harvard; we're competing with the Wilmer Eye Institute at Hopkins; and we're competing with the University of Miami," said Aquavella. "I created these professorships to help bring the best of the best here and ensure that once they are here, they have adequate support for their work, patient care, and research."
Your support of faculty helps advance research that leads to life-changing innovation, like a keratoprothesis, which is enabling us to see the beginning of solutions to long-fought problems.
A portrait interview with Dr. James Aquavella