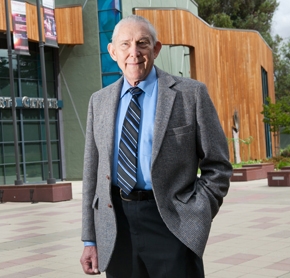 H. Robert (Bob) Williams '57E (MM) outside the Firehouse Arts Center in Pleasanton, Calif.
The concept that a scholarship can be the difference in a student's educational pursuits is one in which The Meliora Challenge: The Campaign for the University of Rochester is heavily invested. By the close of the Campaign, the University aims to raise $225 million in student support, primarily through scholarships.
To complement the endowed scholarship program, the University has launched a new current-use scholarship initiative: the George Eastman Circle Scholarship Program.
George Eastman Circle members exemplify leadership by pledging their support to schools and programs across the University for a period of five years. Now, with a commitment of $5,000 or more annually, members can use their five-year commitment to be leaders in student support. George Eastman Circle Scholarships have an immediate impact on students, providing unrestricted funds that are disbursed to recipients soon after they are received.
U.S. Army veteran and George Eastman Circle Charter Member H. Robert (Bob) Williams '57E (MM) was the first to take advantage of this opportunity.
Bob was able to afford a first-class education at the Eastman School of Music thanks, in large part, to the G.I. Bill and a graduate assistantship from Eastman. The benefits he received from both helped to make tuition extremely affordable. It was an experience he is paying forward through the H. Robert Williams George Eastman Circle Scholarship.
"I had freedom from the worries of having to take out a large loan and repaying it for years to come that today's students often face," Bob says. "I would like to be able to help someone else experience that same feeling."
Members can choose the school their George Eastman Circle Scholarships will support. Bob, a horn player, has been conductor for 30 of his 39 years with the Pleasanton Community Concert Band, in California. With his scholarship, Bob has chosen to help those pursuing a career in music at his beloved Eastman School. As a perk of his philanthropy, Bob—and others who create a scholarship—will be invited to the University's annual Celebration of Scholarships dinner where he'll be able to meet students and learn firsthand how they are benefiting from his support.
Most students interested in the University of Rochester have exceptional talent and the dreams, drive, and commitment to match. A George Eastman Circle Scholarship helps make a Rochester education more accessible for deserving and outstanding students. These commitments not only advance the student support goal for the Campaign, but also the University's mission to Learn, Discover, Heal, Create—and make the world ever better.
Read more about these scholarships in the new George Eastman Circle Scholarships booklet here.