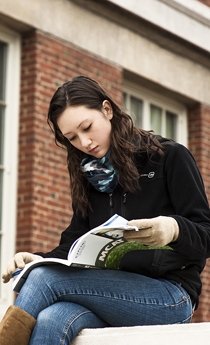 Diana Pratt '13
Cell and developmental biology major
and Wisch Scholar
Astronaut, professional athlete, and movie star are still on the short list of jobs that many sixth grade students plan to have when they "grow up." Most either change their mind or abandon these plans as they get older. This has not been the case for Diana Pratt '13.
Diana, who has always been passionate about helping people, decided to become a doctor after hearing a surgeon speak to her sixth grade class during Career Day. Now, as a student at the University of Rochester, she has set her sights on an even more specific target: cardiothoracic surgery.
Shadowing experienced surgeons at Strong Memorial Hospital, Diana has observed aortic valve replacements, patient rounds, and meetings where patient files were reviewed. This was in addition to lectures, labs, workshops, and participation in clubs such as the Charles Drew Pre-Health Society.
During her first two years, Diana's talent and ambition far exceeded her financial means. To help with her many expenses, she chose to work three part-time jobs. The resulting restriction on her time limited her opportunities to engage in extra-curricular and research activities that could help further her goals.
In 2012, Diana received well-deserved relief from the Dr. Nathaniel and Helen Wisch Endowed Scholarship. This support not only reduced her financial burden, but it also allowed her to focus on medical school and her work as a research assistant in the Ophthalmology Department at the University of Rochester Medical Center.
Under the direction of Dr. Amy Kiernan, Diana is characterizing a new mouse strain that could provide a better understanding of sensory progenitors—the cells that give rise to hair cells and supporting cells—in the inner ear. The loss or dysfunction of these cell types is the most common cause of deafness.
Well on her way to realizing her dream, Diana will begin attending University of Maryland School of Medicine this coming fall. Your support can help ensure future students have the opportunity to realize their potential and achieve their greatest aspirations.