Artist's rendering of the new Ronald Rettner Hall for Media Arts and Innovation
by Boston-based architectural firm Goody Clancy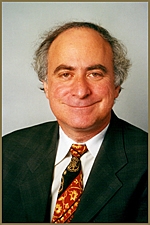 University Trustee and philanthropist Ronald Rettner is advancing The Meliora Challenge: The Campaign for the University of Rochester by helping to put Rochester at the forefront of the digital media world. With a recent leadership gift, Rettner has enabled construction to begin on the Ronald Rettner Hall for Media Arts and Innovation.
"Ronald has been a visionary supporter of education for more than two decades," said President Joel Seligman. "As an entrepreneur himself, he recognizes the importance of hands-on and collaborative student learning and the critical need to bring together knowledge and insights from many different disciplines."
Facilities are a priority of The Meliora Challenge and make up $120 million of the Campaign's overall $1.2 billion goal. By supporting the construction of this facility, Rettner is not only advancing the Campaign's progress, he is also stimulating innovation. Through Rettner Hall and the new digital media studies major, the University will drive novel technologies that lead to the creation of new media.
At the intersection of the arts, sciences, and engineering, Rettner Hall will provide a place for students to gain both practical skills and a theoretical understanding of digital technology. The three-story, 18,900-square-foot facility will give students access to an interactive media playground, featuring a fabrication lab, sound and video recording studios, high-end computers, and 3-D printers.
An open design and flexible workspaces will provide an atmosphere that encourages interaction and collaboration. With its inclusive layout and dynamic functionality, Rettner Hall will also be an environment that creates a new dimension of education. In effect, students will be learning from each other as much they are learning in the classroom.
"I am excited to be a part of this cutting-edge venture," said Rettner. "Interactions among students complement everything in the classroom, and by bringing humanities, engineering, and technology under one roof the potential for collaborations are endless."
Rettner is president of Rettner Management Corporation and is managing partner of Baron Associates, a real estate investment, finance, and management company with national holdings. Since 1975, Rettner has served as director of the Morris B. Rettner Foundation, an organization honoring his father's commitment to the community that supports scholarships, research, and civic projects. He is also a member of numerous other civic and charitable boards.
For more information, click here.