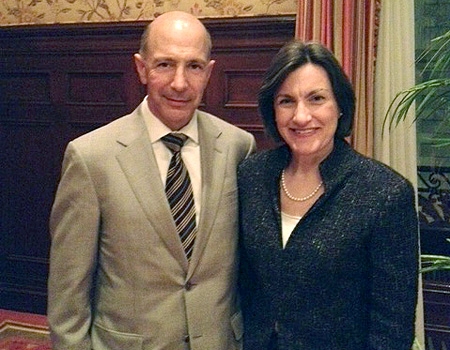 The Meliora Challenge seeks not only to create an improved University and strengthen our region, but also to serve our nation and the world. Ani Gabrellian '84 and Mark Gabrellian '79 have championed the spirit of these goals through a gift of $1.5 million to establish the Ani and Mark Gabrellian Professorship and an additional $66,000 to fund the Mesrob Mashtots Innovation Grant program. The Gabrellians' support ensures the most creative faculty and student minds have the resources to pioneer solutions to some of humankind's most pressing problems.
"I am deeply grateful to Ani and Mark Gabrellian for their commitment to our faculty and students," said President Joel Seligman. "The breadth of their experience in both the private and public sectors has given them an acute appreciation for scholarship. Their commitment to the next generation is exemplary."
The Ani and Mark Gabrellian Professorship was inspired by the Gabrellians' recognition of the strained relationship between government officials and the private sector. A disconnect between the two sides has been caused by a general misunderstanding and/or lack of knowledge of how each side must function. The professorship aims to target this divide. Through a combination of several University disciplines and a focus on the political, economic, global, and historic problems of our time, the multidisciplinary professorship will foster the understanding of the most vital political and economic issues of our era.
"We believe the challenges facing society now and in the future will increasingly require analytical and problem-solving approaches that transcend individual disciplines," said Ani. "Moreover, we recognize that there is increasing interest among academics and prospective students in multidisciplinary scholarship and teaching."
While their gift promotes cross-disciplinary learning, it also provides students with the opportunity to enrich their education outside the classroom and develop the skills they will need to become leaders in their fields. Named after Armenian scholar, Mesrob Mashtots—inventor of the Armenian alphabet—the Mesrob Mashtots Innovation Grant program was established by the Gabrellians in 2010. The grants will be awarded to three outstanding, incoming undergraduate students each year. These funds can be used to take on an unpaid internship, conduct independent research, engage in a service-learning project, or for other practical experiences that complement classroom education.
As undergraduates, the Gabrellians were drawn to multiple disciplines and both were double majors: Mark in political science and history and Ani in political science and economics. Ani and Mark went on to receive a degree in business administration from George Washington University in Washington, D.C., and a law degree from the University of California, Davis, respectively. Today, they work together in their New Jersey-based real estate development and management company, Gabrellian Associates.

"We believe in the concept of endowment," said Mark. "The beauty of an endowment is that it lasts in perpetuity and will grow over time. This is a gift based on a belief in the future." Ani and Mark are committed to supporting the University through these gifts and as Charter Members of the George Eastman Circle at the Benefactor level.