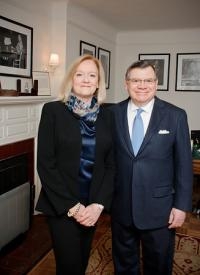 University of Rochester Alumnus and Trustee Bernard T. Ferrari, M.D., and his wife, Linda Gaddis Ferrari.
University of Rochester Alumnus and Trustee Bernard T. Ferrari, M.D., and his wife, Linda Gaddis Ferrari, have made a $1 million gift to Arts, Sciences and Engineering to endow a yearly humanities symposium and related curricula. Its purpose is to explore collaborations between the arts and sciences. This gift also is in support of the $1.2 billion Meliora Challenge: The Campaign for the University of Rochester.
"Through Bernie and Linda's generosity, the Renaissance and the intellectual and artistic innovations for which it is known will inform and inspire Rochester in perpetuity," said University President Joel Seligman. "The vitality of the arts and humanities at our University is critical to all of our students and faculty, and the Ferraris' support strengthens our ability to promote these ideals while expanding our connections in the community and with scholars from around the world."
The Ferrari Humanities Symposia will feature a public talk from a visiting scholar with expertise in humanistic thought from the 14th to 17th centuries. The visiting scholar also will participate in courses designed to complement the lecture.
"Through the symposia, we hope to create another opportunity for students at the University to study, appreciate, and reflect on an extraordinary piece of history, while creating new collaborations for students in different academic disciplines," said Dr. Ferrari.
The symposia's inaugural event begins with a visit and public talk by Anthony Grafton, the Henry Putnam University Professor of History at Princeton University. On March 21, Grafton will give a keynote lecture, open to the public, at 4 p.m. in the Hawkins-Carlson Room of Rush Rhees Library titled "Maps of Time: Science, Scholarship, and History in Early Modern Europe." The talk coincides with a new course open to University undergraduates, The Art and Science of Time, that will be taught by nine faculty members from six academic departments, including art, physics, and English.
"We are delighted that Bernie and Linda encouraged us to think hard about ways to promote the humanities among students with diverse interests. Bernie and Linda's gift to establish the symposia and related courses energized our community, and the inaugural event on March 21 is a celebration that we are eagerly anticipating," said Peter Lennie, Senior Vice President and Robert L. and Mary L. Sproull Dean of the Faculty of Arts, Sciences and Engineering.
Both Dr. and Mrs. Ferrari have a long-standing appreciation of the arts, particularly paintings of the Italian Renaissance period. Linda Gaddis Ferrari earned a bachelor's degree from Ohio Wesleyan University cum laude and her M.B.A from the Tulane University's Freeman School of Business. A former medical researcher and banker, she is now a docent at the Metropolitan Museum of Art.
Dr. Ferrari's interest in the arts stems from a course he took at Rochester as an undergraduate in Medieval and Renaissance era architecture and art. "The study of the humanities provides people with the ability to better appreciate beauty, and better appreciate life," said Dr. Ferrari, who explained that art helped to keep him grounded through his rigorous studies in science and medicine. "The arts also have relevance to solving today's problems when that knowledge is brought together with science and other disciplines."
Dr. Ferrari is a Rochester native and graduate of the College of Arts, Sciences and Engineering in 1970 with a bachelor's degree in science cum laude, and of the School of Medicine and Dentistry with a medical degree in 1974. He earned a law degree and an M.B.A. while working as the chief operating officer of the Ochsner Clinic in New Orleans. He then went on to have a nearly 20-year career as director and partner in the global management consulting firm of McKinsey & Company. Most recently he added author to his list of accomplishments, publishing Power Listening: Mastering the Most Critical Business Skill of All (Portfolio, 2012).
Dr. Ferrari serves the University as a trustee and a member of The Meliora Challenge Campaign Cabinet. The Ferraris are Charter Members of the George Eastman Circle. Dr. Ferrari is a trustee of The Juilliard School in New York; a life member of the Council on Foreign Relations; a retired fellow of the American College of Surgeons, and the American College of Colon and Rectal Surgeons.
Contact: Valerie Alhart
valerie.alhart@rochester.edu
585.276.3256