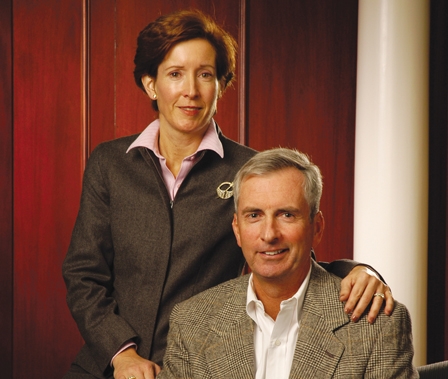 Janice and Joseph Willett
Longtime benefactors of the Simon School and the University, Joseph T. '75S (MBA) and Janice M. '78S (MBA) Willett have pledged $3.5 million, which equals their previous gifts to the University's comprehensive Campaign, The Meliora Challenge. This new gift will support student scholarships at the Simon School, faculty in the Department of English, and enhance the University's International Theatre Program.
"The global business school environment is becoming more and more competitive. The Willetts' gift will enable Simon to attract the most talented students from around the world," said Dean Mark Zupan. "We are profoundly thankful for Joe and Janice's steadfast and magnanimous support for our school."
In addition to supporting Simon School students, the Willetts have chosen to honor Professor Russell Peck, the John Hall Deane Professor of Rhetoric and English Literature, and his wife, Ruth. Russell's courses enhance the International Theatre Program through a comprehensive introduction to performance and technical demands. Together, the Pecks have taught a course on Theatre in England, which included extensive theatre-going experiences.
"This marvelous gift from Janice and Joe Willett means a lot to us," says Peter Lennie, senior vice president and Robert L. and Mary L. Sproull Dean of the Faculty of Arts, Sciences and Engineering. "It brings proper recognition to a beloved faculty member and a remarkable program in an accomplished department. The Willetts' generosity inspires all of us."
Joseph Willett is the retired CFO of Merrill Lynch and Co., Inc. and the retired COO of Merrill's European region. Janice Willett, currently a freelance editor, most recently served as manuscript editor for The Boston Consulting Group, and has served as both a clinical faculty member and guest lecturer at the Simon School. She is a member of the University of Rochester Board of Trustees, the Simon School National Council, and is chair of the Simon School's portion of The Meliora Challenge.
Together, the Willetts are members of the Simon School Executive Advisory Committee, co-chairs of the Northern New Jersey Regional Cabinet, and recipients of the inaugural Simon School Dean's Medal in 2008. They are also George Eastman Circle Charter Members.