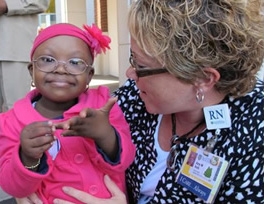 $100M goal includes new building and enhancing clinical, research and education programs.
Volunteers, University and Medical Center leaders, physicians, and staff tonight launched a $100 million campaign to transform Golisano Children's Hospital at the University of Rochester Medical Center (URMC) facilities, teaching, research, and patient care programs. The capital project for the new hospital is the largest in the University's history. The $100 million campaign also represents a large portion of URMC's overall $650 million campaign. Both are components of The Meliora Challenge: The Campaign for the University of Rochester, which is the $1.2 billion comprehensive campaign announced last week.
"Meliora is not just our University and Campaign motto. 'Ever Better' is an ethic that we share as a community, a description of who we are and what we value," said Joel Seligman, president of the University of Rochester. "The planned transformation of Golisano Children's Hospital fits our motto perfectly. We need to make pediatric services ever better because it helps our region grow the next generation into healthier, happier, more productive adults." Read more...