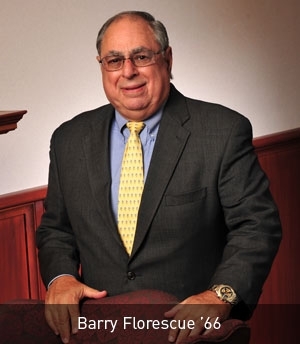 University Trustee Barry Florescue '66 has contributed $5 million to the University's newly created undergraduate business major. In recognition of the generous support and contributions Mr. Florescue has provided for the development of the major, it will be named the Barry Florescue Undergraduate Business Degree Program.
"When I learned that the University was considering reestablishing the business major that I pursued as an undergraduate, I knew this was an important area of the dynamic curriculum that was worth supporting," said Florescue. "I am pleased to be a part of this new program, knowing that it will prepare our students to become successful players in the world of business."
Barry Florescue is chairman of the board of BMD Management Company Inc., a member of the Simon School's Executive Advisory Committee, and a Charter Member of the George Eastman Circle. Through the Florescue Family Foundation Scholarship and the Florescue Fellowship Fund, he has helped both undergraduate and graduate students turn their aspirations of a University of Rochester education into a reality.
"Let me express my gratitude to Barry for supporting a major that builds on the strengths of both the College and the Simon School and will provide a valued curricular choice for our undergraduates," said President Joel Seligman.
To read more about Barry Florescue's gift, click here.