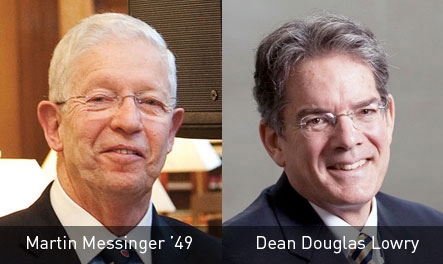 Through a generous commitment by University Life Trustee Martin Messinger '49 and Joan Messinger, Douglas Lowry, the Eastman School's sixth dean, will be named the first Joan and Martin Messinger Dean of the Eastman School of Music. The endowed deanship provides a source of permanent funding in support of programming and areas of critical need for the dean of the Eastman School.

This announcement came shortly before Joan Messinger's passing on April 25, 2011. The University of Rochester community is deeply saddened by her absence, but her inspirational commitment to the University will be long remembered at Rochester. With her husband Marty, she built an extraordinary philanthropic legacy that will live on, enriching the academic experience of students and faculty for generations to come. President Joel Seligman and Doug Lowry among others represented the University at Joan's memorial service on April 27.

Marty Messinger, a long-time friend and supporter of the University, has been a member of the Eastman School's Board of Managers since 1997 and the Eastman School National Council since 2008. He and his family have supported programs and initiatives across the University, including new and enhanced student spaces inside Rush Rhees Library. The Messingers have also established funds supporting the Judaic studies program, the student Debate Union, and the Messinger Library Recognition Award.

"I am deeply honored that Joan and Marty so generously endowed the deanship of the Eastman School of Music. Marty has been a steadfast believer in the University, and his support of Eastman has been truly inspirational," Lowry said. "Joan and Marty's values, wisdom, and sense of family are only a few of their admirable traits, and we treasure their being part of the Eastman family."

Lowry will be officially installed in the new deanship this fall.
Click here to read more about the Messinger Deanship.