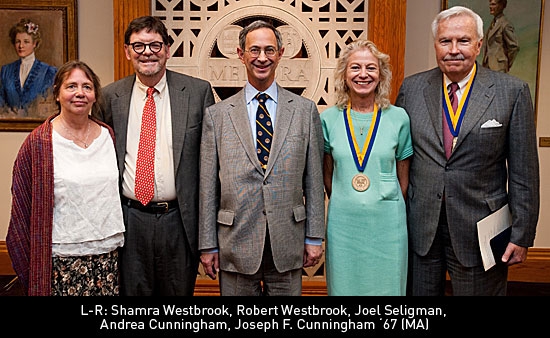 Joseph F. Cunningham '67 (MA), founder of the Washington, D.C-area law firm Cunningham & Associates, and his wife, Andrea, have made a generous $1 million gift commitment to establish a professorship in history in the School of Arts and Sciences. The Joseph F. Cunningham Professorship supports a scholar in the area of history, particularly modern European or American history. The first recipient of the newly endowed chair is Robert Westbrook, an eminent and prolific scholar, dedicated teacher, and long-serving member of the history department. Cunningham says he endowed the professorship out of "gratitude for the spontaneous generosity that the University extended to me when I wanted to pursue graduate studies."
Cunningham co-authored the Virginia State Bar Monograph on Insurance Law, has published widely in legal journals, and is a frequent lecturer at Georgetown Law Center, the University of Maryland, and the University of Virginia. He endowed a chair in insurance and commercial law at Columbia University School of Law, where he received his law degree in 1960. Two years later, Cunningham began to sample the University's academic offerings under a tuition scholarship, and eventually earned his master's degree in history.
"Joseph Cunningham is one of our truly admired University graduates," said President Joel Seligman. "His decision to endow a chair in history demonstrates a deep commitment to higher education."
Click here to read more about the Cunningham Endowed Professorship.