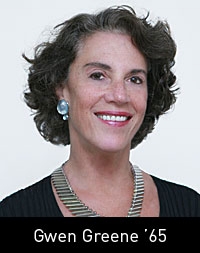 For more than 20 years, University of Rochester alumna and Board of Trustees member Gwen Greene '65 has provided encouragement, support, and mentoring for students hoping to break into the financial world. In recognition of her continued support and new $1 million commitment to the College's career center, the center will now be named the Gwen M. Greene Career and Internship Center.

"Gwen Greene has been an extraordinarily generous mentor to Rochester students and alumni for many years," said Joel Seligman, president of the University. "This latest gift is another wonderful demonstration of how fortunate our students and alumni are to have Gwen in their corner."

The Gwen M. Greene Career and Internship Center supports a number of services for students at Rochester, including career counseling and graduate and pre-professional school advising, as well as networking opportunities. Throughout the 2009-2010 academic year, the Center's 11 counselors held more than 3,500 one-on-one sessions with students, helping them create résumés and cover letters and honing their interview skills and job search strategies.
Gwen has been a member of the Board of Trustees since 2000, where she chairs the Student Affairs committee, serves as chair of annual giving programs for the entire University, is a member of the Trustee Development Committee, and also is a Charter Member of the George Eastman Circle, the University's leadership annual giving society.
Click here to read more about the Gwen M. Greene Career and internship Center.