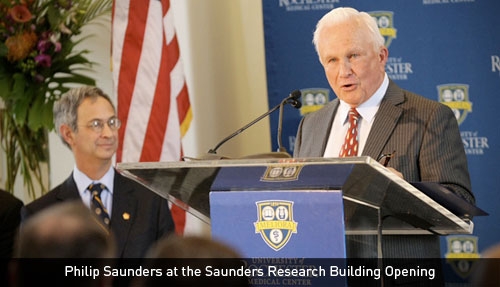 "The most important thing Phil has done today is give thousands and thousands of patients hope."
—Dr. Bradford Berk, chief executive officer, University of Rochester Medical Center at an April 4 press conference announcing Philip Saunders' gift commitment
Rochester businessman E. Philip Saunders, already a major supporter of neuromuscular disease research at the University's Medical Center, has committed an additional $10 million to the neuromuscular disease program and other critically important areas of URMC service. Making one of the largest gifts ever received in the Medical Center's history, Saunders is dedicating the gift to veterans of the U.S. armed forces. The University's new clinical and translational science building has been named the "Saunders Research Building" in his honor.
Saunders has been a dedicated supporter of the URMC and the ground breaking research under way in its Neuromuscular Disease Center. While the bulk of Saunders' new gift commitment will support clinical care and research in neuromuscular disease, some of the funds will support cancer research and help augment the University's commitment to translational science – accelerating the development of new clinical treatments based on discoveries made in University of Rochester laboratories.
The naming of the research building in Saunders' honor was announced at an opening event held on April 8. Dr. Richard Moxley, director of the Neuromuscular Disease Center, spoke about the promising work being done on myotonic muscular dystrophy, the most common type of muscular dystrophy affecting adults. Dr. Moxley met Mr. Saunders in 1998 when he treated Saunders' daughter for Guillain-Barre Syndrome; it was then that the Saunders family became involved in research efforts at the Medical Center. "Our state and national economy is under severe stress," Moxley said. "We need to pursue the opportunities that our research has discovered. Saunders' gift makes it possible for us to pursue this goal and pursue it more rapidly."