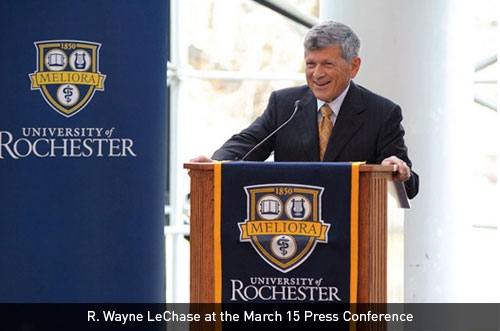 R. Wayne LeChase and his wife Beverly have made a $3.5 million commitment to the University in recognition of the important role education plays in improving lives and strengthening the community. The gift will allow the Warner School of Education to break ground next month and to expand fundraising efforts for its construction and the important research, teaching, and education reform programs it will enable. The building will be named in memory of Wayne's father, the late Raymond F. LeChase. He was the founder of LeChase Construction Services, LLC, and was a pioneer in the Rochester construction community, a renowned philanthropist, and a dedicated supporter of education.
"My family and I are honored to be a part of this new facility," said Wayne LeChase. "I was raised to believe in the values of hard work, perseverance, commitment, and community, and there is no better way to see these ideals come to life than through the support of an institution committed to preparing our future educators. The Warner School of Education is a valuable asset to our community, and we are very excited to watch this come to fruition."
"Raymond LeChase's commitment to social responsibility and the community were founding principles of his company and a legacy that his son Wayne continues as chairman of LeChase Construction and as a Rochester community leader," President Joel Seligman said. Wayne also serves the University as a member of the Board of Trustees and advisor and member of key Medical Center leadership groups. Wayne is helping to shape the future of the University as a volunteer leader and major donor. He and Beverly are charter members of the George Eastman Circle, the University's leadership annual giving society.
Raymond F. LeChase Hall is the first major building to be constructed in the historic Wilson Quadrangle on the River Campus in 30 years. A four-story, 65,000-square-foot facility, it provides a unified home for the Warner School and will feature an expansive suite of 14 classrooms on the first floor that will serve the College during the day and the Warner School in the evening. It also provides an efficient solution to the critical need for classroom space on the River Campus. Raymond F. LeChase Hall is tentatively scheduled to open January 2013.
"All of us at Warner are grateful for Wayne and Beverly's generosity and service and for our shared aspirations for building a great learning environment for the preparation of teachers, counselors, and educational leaders in our community," said Raffaella Borasi, dean of the Warner School. "This is the second transformative gift in Warner's history after the naming of the School in 1993 by William F. Scandling to honor his late wife, Margaret Warner Scandling. This building will create an environment that will not only support teaching and learning, but allow us to work collaboratively with each other and the community to research complex education problems and forge effective solutions."
To learn more about Raymond F. LeChase Hall, click here.