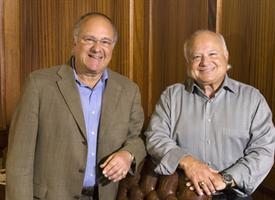 On Friday, October 15, the University of Rochester Board of Trustees approved the renaming of the Medical Center's regional burn and trauma services in honor of Laurence Kessler and Dennis Kessler. The two local restaurateurs have given more than $3 million to support the services; they recently made a new commitment of $1 million to begin an endowment that ensures growth of burn and trauma programs and also supports other University projects.
"Year after year, the Kesslers have been the largest individual donors to Strong Memorial Hospital," said Bradford C. Berk, M.D., Ph.D., the Medical Center's chief executive officer. "Kessler donations have given us the area's best facilities for treating patients with traumatic injuries or burns. Their ongoing commitment to the Center's endowment will ensure that our program meets regional needs and sets the pace nationally among centers that treat burns and other traumatic injuries."
The Kessler Burn & Trauma Center name is now used to reference all areas within the Medical Center that provide emergent, inpatient, and outpatient care for patients with traumatic injuries and burns. Previously, only the Emergency Department's trauma unit and Burn/Trauma Intensive Care Unit bore the Kessler name.
The Kessler Center treats more than 3,000 people each year and features the area's only dedicated burn service. With the Kessler-funded endowment, the Center hopes to attract more specialists who can offer a wider array of treatment options. In addition, Jeffrey H. Peters, M.D., the Seymour I. Schwartz Professor and Chair of Surgery at the Medical Center, said the Kessler Center will now be able to expand clinical research, become a leading presence in regional and national professional societies, and continue to improve patient care and surgical training.
Click here for the entire article.