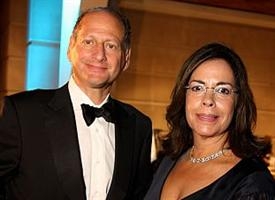 University Trustee and Medical Center Board member David M. Flaum and his family have been champions of the University of Rochester Eye Institute for years. In recognition of their ongoing leadership, advocacy, and support, President Joel Seligman announced on that the center will be renamed the David and Ilene Flaum Eye Institute.
"David and Ilene Flaum have been unyielding in their commitment to the University of Rochester on many levels," said Seligman. "In addition to their significant and ongoing charitable contributions, David has played a pivotal role in building awareness of the Eye Institute and identifying and securing funding opportunities. This naming is a fitting and enduring way to honor their steadfast support."
"During the early days of the Eye Institute, David expressed to me that he thought we had a wonderful future and he wanted to be involved," said Steven E. Feldon, M.D., M.B.A., chair of the Department of Ophthalmology and director of the David and Ilene Flaum Eye Institute. "He's been instrumental in fostering its growth."
"I'd always been interested in the science of vision and know personally the transformative power of improved sight. So being a part of something that could positively impact lives was certainly a draw," said Flaum, an inaugural member of the Eye Institute's Advisory Board. "But I was also attracted by the recruitment of Dr. Feldon who impressed me immediately and continues to prove himself a great leader."
Flaum is the founder and CEO of Flaum Management Co., a real estate development company based in Rochester. In 2008, he was the Eye Institute's Partner in Vision Award Winner.