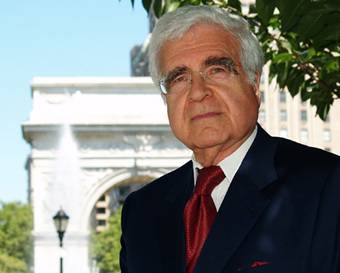 Arthur R. Miller '56, '08 (LLD), one of the nation's most distinguished legal scholars, has made a generous $1.5 million gift commitment to establish a professorship in the University of Rochester's School of Arts and Sciences. The Arthur R. Miller Professorship will be awarded to an outstanding scholar in the field of history who is engaged in both research and teaching undergraduate and graduate students.
Miller received his bachelor's degree in history from the University of Rochester. An expert in the areas of civil litigation, copyright and unfair competition, and privacy, Miller is the author of more than 40 books and numerous articles. He was the Bruce Bromley Professor of Law at Harvard University, where he earned his law degree and taught for 36 years. He is currently a University Professor at New York University School of Law and the NYU School of Continuing and Professional Studies. Miller was the first person to explain law on television through Good Morning America, PBS, and the original Court TV, a series for which he won an Emmy and numerous American Bar Association Awards.
A longtime supporter of the University of Rochester, Miller was awarded an Honorary Doctor of Laws degree from his alma mater in 2008. He received the Charles Force Hutchison and Marjorie Smith Hutchison Medal, the University's highest alumni award, in 1984 in recognition of his outstanding career achievements and his service to the University. His many invaluable contributions to academic life at Rochester include delivering the Steinberg Lecture on psychiatry and the law in the Medical Center and hosting the annual Miller's Court symposium on compelling legal issues during Meliora Weekend.