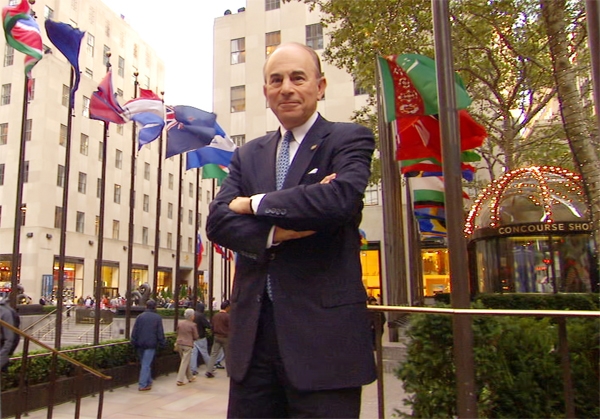 The University of Rochester has received the largest single gift commitment in its 158-year history from Edmund A. Hajim, a 1958 graduate of its School of Engineering, a highly successful investment manager, and the Chairman of its Board of Trustees.
Hajim announced the $30 million gift commitment Oct. 16 at the University's Trustee dinner.
"This is a historic commitment," said University President Joel Seligman. "Ed has been an exemplary donor and a member of our Board since 1988. With this gift of historic generosity, his support and his example make him our most inspiring donor at this moment in our history. This is a truly transformational gift, and we are enormously grateful to him."
"Higher education is the cornerstone of economic strength in our increasingly interconnected world," Hajim said. "It will be even more important in the decades ahead, and our nation's foremost research universities will lead the way. A great tradition in this country is that we try our best to improve the world we inherited for the generations that will follow us. Supporting a vibrant center of innovation and discovery like the University of Rochester is simply the best way I can fulfill this obligation."
Seligman emphasized the striking timing of the gift. "So extraordinary a gift even at this time of great uncertainty in the economy is a powerful sign of Ed's faith in our University," he said.
Until the Hajim gift, the largest gifts in Rochester's history were two separate $17 million gifts from George Eastman, a $15 million gift from Marie C. and Joseph C. Wilson in 1967, a $26 million gift from Charles F. Hutchison in 1976, and a $14 million gift from B. Thomas Golisano in 2002.
"I feel honored to be able to provide this gift to such an important institution," Hajim said. "But as they say in sports, records are made to be broken. Nothing would make me happier than to see this gift quickly surpassed by many others."
Hajim has designated the gift, which will be paid over a number of years, to benefit Rochester's School of Engineering and Applied Sciences. He has asked that the gift be used to support scholarships for students with significant financial need as well as the school's endowment.
"Engineering at Rochester is known for innovation, for quality, and for its agility in addressing new and exciting problems," said Robert Clark, who became the school's dean on Sept. 1. "This transformative gift will make it possible for our faculty, students, and staff to aspire to even greater accomplishments in education, research, and service to society, now, and for years to come. We are deeply indebted to Ed for his most generous gift and his commitment to the School of Engineering and Applied Sciences and the University of Rochester."
Hajim added that he was particularly pleased to help support "exceptionally talented students whose families simply do not have the financial resources to attend a world class research university like Rochester. These are the students who will help ensure our nation's continuing success in a world of ever greater competition."
Seligman said the gift will, among other purposes, provide financial aid support in perpetuity to full-time undergraduate students in engineering. Hajim's goal is that the fund will ultimately provide financial support to five Hajim Scholars in each of the four classes, for a total of 20 scholarships. The support for the endowment will guarantee the long-term financial strength of the School, Seligman said.
"I agree with George Eastman," Hajim added, "when he said that the progress of the world depends almost entirely upon education. Education is almost a magic word for me. It allows America to be what it is—a place where a person can begin with nothing and in one generation achieve almost anything."
From a very young age, Hajim learned the value of self-reliance and perseverance. He grew up in a single parent household during the Depression and World War II and was often left on his own. Describing his arrival at Rochester, Hajim said that "I was of modest means, had received an NROTC scholarship and worked my way through school with jobs on and off campus."
"The University of Rochester taught me how to work," he said. "And it gave me a chance to learn interpersonal and organizational skills through my participation in extracurricular activities."
Hajim was elected chairman of the University's Board of Trustees on May 19, succeeding G. Robert Witmer Jr. He earned his bachelor's degree in chemical engineering from the University of Rochester in 1958 and has served the University on committees and councils for more than 30 years and as a trustee since 1988.
After receiving an MBA with distinction from Harvard Business School in 1964, he began a remarkable investment career and has held senior positions with the Capital Group, E. F. Hutton, and Lehman Brothers. In 1983, he went on to become chairman and CEO of Furman Selz, which he sold twice, first to Xerox in 1987 and then to ING Group in 1997. At ING, he was chairman and CEO of ING Aeltus Group. In 2002, he started his own investment funds and became a director of Morgan Joseph.
Hajim's dedication to causes about which he cares deeply is evident in his service as a member of the board of trustees of the Nantucket Conservation Foundation and the Ocean Reef Foundation. Previously, he has served as president of the Harvard Business School Alumni Association, chairman of the board of trustees of the Brunswick School, as a trustee and chairman of the investment committee at Greenwich Hospital, as a trustee of the American Craft Museum and as a member of the investment committee at the Brookings Institution. He is also a founder and member of the board of directors of the Nantucket Golf Club.
During his undergraduate years in Rochester, he was a Keidaean and the finance committee chair for the Students' Association. He was also president of the engineering council, the social chair of his fraternity, and the founder and editor of the University's first humor magazine, UGH. He is now serving his fourth term as a University trustee and served as chairman of the Investment Committee from 1988 to 2003. He also served on the Development, Executive, and Presidential Search Committees. He served as national reunion co-chair in 2000, the chair of the Campaign for Sports and Recreation from 1998 to 2001, and a member of the President's Leadership Council from 1975 to 1980.
His gifts to the University include the Hajim Scholarship Fund, and in 1999 he made a major gift to help fund construction of the Robert B. Goergen Athletic Center that includes theEdmund A. Hajim Alumni Gymnasium. In 2006, he provided funding for the William E. Simon Graduate School of Business Administration's Summer Business Institute, an immersion program for college juniors, seniors, or recent graduates. And in 2007, he was awarded the Hutchison Medal, the University's highest alumni award.