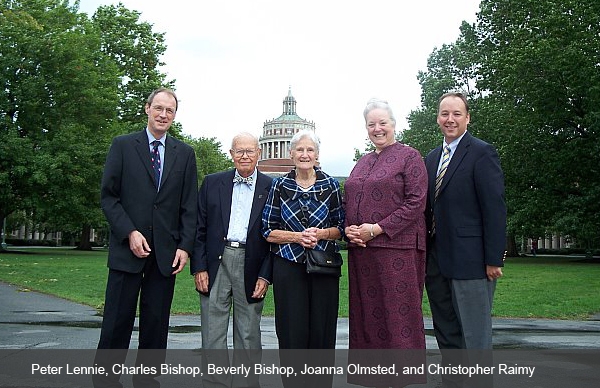 At a ceremony held last spring in the Hawkins-Carlson Room of Rush Rhees Library, Professor Michael Tanenhaus was officially installed as the Beverly Petterson Bishop and Charles W. Bishop Professor of Brain and Cognitive Sciences. The ceremony was presided over by President Joel Seligman and Peter Lennie, Robert L. and Mary L. Sproull Dean of the Faculty of Arts, Sciences, and Engineering. The Bishops created the professorship to support an outstanding scientist who researches cognitive brain functions and teaches undergraduate and graduate students.
The University of Rochester community is deeply saddened by Beverly Bishop's recent death. She was a professor in the Department of Physiology and Biophysics at the University of Buffalo, where she studied how the nervous system controls muscle activity. Her research interests were strongly influenced by the late Hermann Rahn, former vice chairman of the Department of Physiology at Rochester. She had received top awards for teaching excellence from SUNY, published more than 150 scholarly articles, and edited four books. Dr. Bishop received her master's degree in psychology from the University of Rochester in 1946. Her deep commitment to learning and intellectual discovery will long be remembered at Rochester. Her contributions — which brought great distinction to the University during her life — are now part of the institution's proud history.
Charles Bishop is an associate professor emeritus of medicine at the Erie County Medical Center in Buffalo. He is a pioneer in the field of medical informatics, having designed the CODEN system while working at the Chronic Disease Research Institute at the University of Buffalo. Since then, much of his work has been devoted to making medical information freely available to all through Web-based sources. Dr. Bishop received his Ph.D. in biochemistry from the University of Rochester in 1946.
"Michael Tanenhaus is an international authority on the comprehension of language," said Peter Lennie. "His impact on the field, through his research and through his training of students, has been remarkable, and I am delighted that the generosity of Beverly and Charles Bishop enables us to recognize it."
To see photos of the celebration, click here.