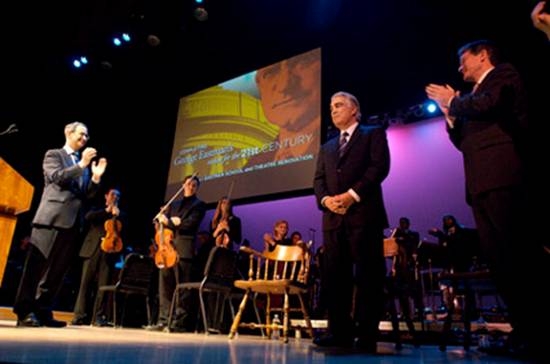 On the morning of April 11, the University gathered together with the Rochester community for a special musical program and major announcement held at Eastman Theatre. President Seligman, Doug Lowry, Dean of the Eastman School, and Christopher Seaman, Rochester Philharmonic Orchestra Music Director, were joined on the stage by Antonio M. Perez, Chairman and CEO of Eastman Kodak Company. Perez announced that Kodak is committing $10 million to the University of Rochester to support the Theatre's renovation and expansion. In recognition of Kodak's leadership support, the Theatre's main performance hall will be renamed "Kodak Hall at Eastman Theatre" when the renovations are completed.
"Kodak has had a close relationship and a strong partnership with the University and the RPO throughout their history, a bond that began with George Eastman, and is stronger today," said Perez.
President Seligman said Kodak's investment will enable the people of Rochester to enjoy an enhanced performance hall and the economic development benefits that will come from construction and an increasingly vibrant cultural district downtown.
The project, which includes the addition of a building for teaching and performance spaces, will complete George Eastman's original plan for the University's Eastman School of Music as well as the adjoining Theatre.
For the whole story, click here.
To see photos from the event, click here.