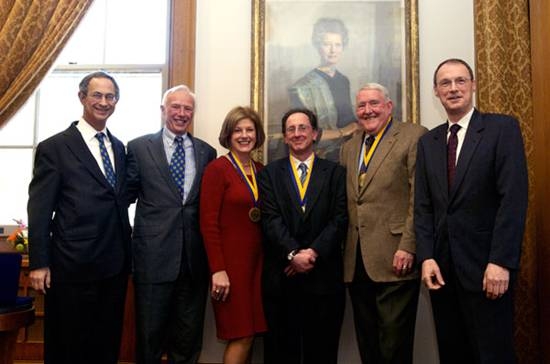 On March 24, Trustee Cathy Minehan and her husband E. Gerald Corrigan welcomed and celebrated the work of Lawrence Rothenberg, the new Corrigan-Minehan Professor of Political Science in the College of Arts, Sciences, and Engineering. Rothenberg, an expert on interest groups and environmental politics, was honored in an installation ceremony held in the Hawkins-Carlson Room, Rush Rhees Library.
The endowed professorship is part of a $3 million gift to the University of Rochester, which also will be used to fund scholarships. Corrigan, a former chief executive officer of the Federal Reserve Bank of New York, is now a managing director at Goldman Sachs. Minehan, former chief executive and president of the Federal Reserve Bank of Boston, now works at Arlington Advisory Partners in Boston. She earned a Bachelor of Arts degree in political science from the College in 1968 and has served as a trustee of the University since 1995. She holds an M.B.A. from New York University.
"Just about everything he said about his approach to political science, his approach to scholarship, his approach the research, hit my sweet spot," Corrigan said during his speech at the ceremony. "We think of this as an investment in the future."
"Being able to give back is a humbling thing," Minehan said. "Neither of us could think of anything better than investing in the University."
University President Joel Seligman thanked Minehan and Corrigan for their long relationship with Rochester and acknowledged Rothenberg's work and dedication to his field.
"Few events in the life of a university or college rival the creation of an endowed professorship," Seligman said. "This is literally the equivalent of a knighthood. Cathy and Gerry's dedication to education is what we're really celebrating today."
Rothenberg originally joined the University of Rochester in 1989. He is the former director of the W. Allen Wallis Institute of Political Economy at the University. Rothenberg taught at the Kellogg School of Management at Northwestern University from 2002 to 2005. During that time he was named Max McGraw Distinguished Professor of Management and the Environment, and director of the Ford Center on Global Citizenship. Rothenberg returned to Rochester in 2005. He received his doctoral degree from Stanford University in 1986 and is the author of numerous journal articles and four books.