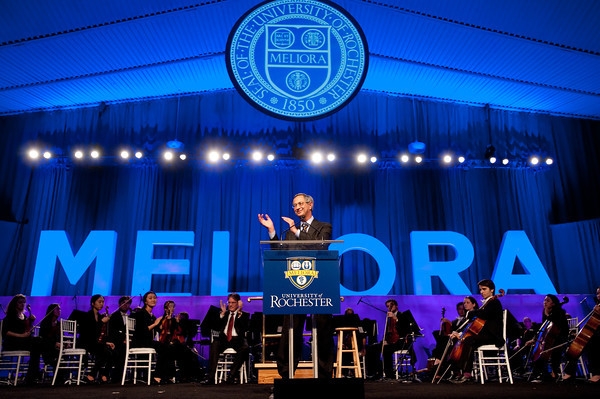 The University yesterday officially announced the largest comprehensive fundraising Campaign in its 161-year history with a $1.2 billion goal. The Meliora Challenge: The Campaign for the University of Rochester will advance the University's leadership in research, teaching, and patient care, and enhance its service to society. The Campaign will invoke the shared values and learning that have inspired generations of students, faculty, and staff to be "ever better," the common translation of the Latin word Meliora and the University's motto.

The Meliora Challenge marks the first time that the entire University—all schools, units, programs, disciplines, and locations—is participating in a unified, coordinated effort to meet University-wide fundraising goals in order to achieve a University-wide vision. All private gifts and grant support during the Campaign period will count toward the total. The public phase of the Campaign follows a phase of leadership giving that commenced with the arrival of University President Joel Seligman in July 2005. The Campaign is scheduled to conclude in June 2016. Read more...
Visit our Photo Gallery for a slideshow...
Additional coverage:
Rochester Democrat & Chronicle (October 22): Read more...