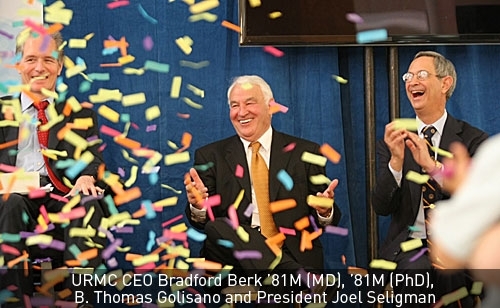 On July 14, B. Thomas Golisano demonstrated his continued commitment to our region's children with a $20 million pledge that will jumpstart the plans to build a new $134 million Golisano Children's Hospital. The new hospital will include a 60-bed Neonatal Intensive Care Unit (NICU), pediatric imaging, and 56 private pediatric rooms.
"A new facility is necessary to keep pace with medical and technological advancements and meet the modern standards of a children's hospital," said Tom Golisano. "I am pleased to provide this gift to help construct a new, next-generation hospital to provide the highest quality care to children throughout the region."
"Tom's gift will transform the way that children are cared for in upstate New York and it advances our ability to modernize Golisano Children's Hospital for the 21st century," said President Joel Seligman.
Tom Golisano's original $14 million gift to name the Children's Hospital in 2002 has helped URMC recruit outstanding faculty and expand programs in cardiac care, general surgery, neuromedicine, and more. This latest pledge brings Golisano's total giving to the Children's Hospital to $34 million, making him the University of Rochester's most generous individual living donor. This gift provides the momentum to reach the goal of $134 million that will be used to create a facility matching the talent and dedication of the faculty, clinicians and service providers, enabling them to surpass the outstanding care they already provide.
To read more about Tom Golisano's gift commitment, click here.