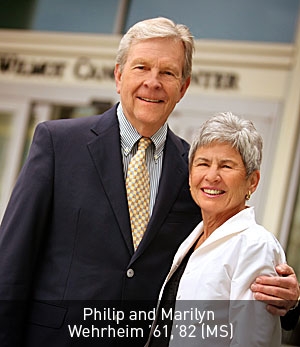 After listening to their friend Judy Wilmot Linehan describe the devastating effect of cancer on her family, and hearing Michael Donnelly's incredible survival story thanks to the physicians and researchers at the James P. Wilmot Cancer Center, Philip and Marilyn Wehrheim '61,'82 (MS) were inspired to make a $1.5 million commitment to fund the Philip and Marilyn Wehrheim Professorship.
The Wehrheims, who are longtime supporters of many Rochester area charities and foundations, are strengthening the research efforts of the James P. Wilmot Cancer Center with this gift that will support Craig Jordan, Ph.D., the director of hematological translational research.
"We were looking for something to benefit the community and we chose the Wilmot Cancer Center. Cancer has taken a lot of our friends. We wanted to keep talented researchers in our community," said Marilyn, who earned her undergraduate and graduate degrees at the University of Rochester.
This is not the first time that the couple was affected by patient testimonials. At the 2008 Discovery Ball, Philip and Marilyn were particularly moved by President Joel Seligman's personal account of his successful battle with lymphoma. The result was a $250,000 commitment that helped fund the construction of the Wilmot Cancer Center, and the research within it. They also are Charter Members of the George Eastman Circle, directing their support to the Wilmot Cancer Center.
"I like the idea that the gift will be used to establish a professorship that will help fund cancer research into the future," explained Philip, a local businessman, who earlier in his career worked with B. Thomas Golisano to create Paychex. "It's like the gift that keeps on giving. We've given to other organizations in the community, but this represented an opportunity to support something that literally saves lives."
An endowed professorship is one of the highest honors bestowed by the academic community, and it plays a critical role in recognizing and recruiting faculty and researchers. The Philip and Marilyn Wehrheim Professorship will support top scientists who are on the leading edge of cancer research.
To read more about the Philip and Marilyn Wehrheim Professorship, click here.