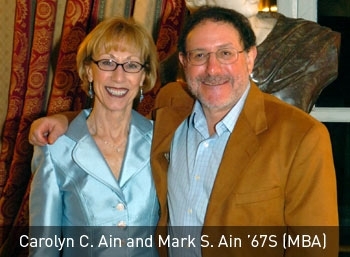 Longtime supporters of entrepreneurship and education, Mark S. Ain '67S (MBA) and Carolyn C. Ain have made a $3 million gift commitment to support entrepreneurship education and scholarships at the Simon Graduate School of Business. "Thanks to Mark and Carolyn's generosity, we will be able to educate the George Eastmans and Bill Gates of the future and for that we are immensely grateful," said Simon School Dean Mark Zupan.
Recognized as an outstanding entrepreneur in New England, Mark Ain has played a key role in recent entrepreneurship initiatives at the Simon School. Since 2007, the Mark Ain Business Model Workshops and Competition has awarded winning students with $13,500 in cash prizes each year. Additional initiatives the Ains have supported include internship and scholarship support, a high profile lecture series through the University's Center for Entrepreneurship, and technology transfer. His support has enabled students to contribute to economic development in the Rochester region through internships designed to bolster small businesses and the community.
Mark Ain is an actively involved member of the University Board of Trustees, the Simon School Executive Advisory Committee, and a recipient of the Simon School's 2005 Distinguished Alumnus Award. He is the co-founder and chairman of Kronos Incorporated, the market leader in the workforce management industry. Mark and Carolyn are Charter Members of the George Eastman Circle.
"We are deeply grateful to Mark and Carolyn Ain for this investment in entrepreneurship education at both the University of Rochester and the Simon School," said President Joel Seligman. "We are proud to be considered a leader in entrepreneurship education and this gift will enable us to build on that momentum."
To read more about the Ains' gift, click here.