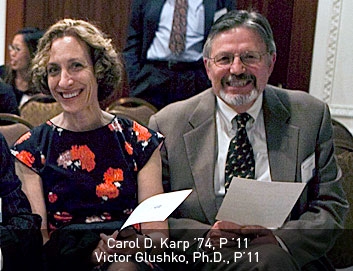 Carol D. Karp '74, P'11 has made a commitment of $1 million to support the endowment of internships, the University Technology Development Fund, and the College, River Campus libraries, and School of Medicine and Dentistry annual funds.
In making the gift to endow internships, Carol and her husband, Victor Glushko, Ph.D., P'11, expressed a strong desire to give Rochester students meaningful opportunities to explore work in their field in a way that could help shape their future goals. "Our daughter, Sarah, completed two internships that had a major impact on her Rochester experience. We want to provide direct support for students and help them develop into future leaders."
Carol and Victor were also inspired by the University's commitment to enhance technology transfer opportunities, and bring a wealth of experience on the successful transfer of technology from academia to the commercial marketplace. Carol serves on the University's Technology Fund Committee, and both she and Victor have volunteered to serve as advisors to University faculty on technology transfer initiatives.
Carol and Victor are Charter Members of the George Eastman Circle, and active members of the Parent's Council. Carol is also a San Francisco Bay Area Regional Cabinet member. In recent months they hosted an admissions reception and an alumni gathering in their Hillsborough, CA home. Their daughter, Sarah Karp '11, will be returning to the University next year as a Take Five Scholar.