Our Mission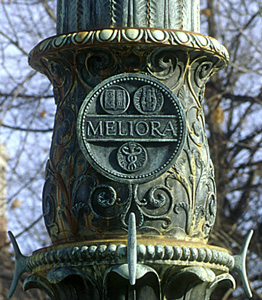 Learn, Discover, Heal, Create—
and make the world ever better
Meliora. Ever better. It's more than our motto at the University of Rochester. Meliora is a shared value and a way of life that has set us apart as an educational community since our founding in 1850.
Rochester became one of the world's most distinguished research universities by embodying the spirit of Meliora. We never settle for the world the way it is. We consistently strive to reach further, embrace rigor and hard work, and take the lead in matters of the mind and heart.
Meliora is the foundation for Rochester's mission to Learn, Discover, Heal, and Create. Meliora pushes us to think critically and analytically. Meliora inspires us to expand the limits of knowledge and tackle the most complex problems. Meliora galvanizes us to improve the health and well-being of our communities. Meliora moves us to expand the imagination, to explore, to perfect, and to innovate.
We seek to be ever better not just for ourselves and our region, but to serve our nation and our world. We continually strive to build on our distinctive strengths—from science and engineering to the humanities, health care, the social sciences, education, business, and music—and seek new solutions that advance the Rochester experience and benefit humankind.
In the words of Rochester's first president, Martin Brewer Anderson: "Our work is but begun."