The Case for a Bold Campaign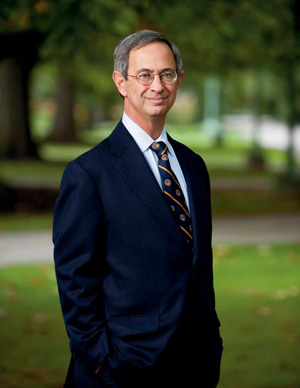 Rochester is a great university because of the foresight of men and women over the decades who translated big dreams and lofty ideas into bold actions. George Eastman was particularly exemplary among them, remembered today as much for his visionary generosity as for his impressive commercial success.
Eastman's legacy at the University of Rochester—including the Eastman School of Music, the Eastman Theatre, the River Campus, the Eastman Dental Center (now the Eastman Institute for Oral Health), and the School of Medicine and Dentistry—highlights what philanthropy and a bold vision can accomplish. He raised the sights of his contemporaries, and together, by the thousands, they transformed the University of Rochester and its city.
Now we have new aspirations and face new challenges. Leadership in the 21st century demands an increasingly greater depth of knowledge, breadth of experience, and dedication. We seek to prepare graduates who have the creativity, skills and character to take on the great issues of our day, from the environment to health care, from childhood education to global economic competitiveness, from world-altering research to care for our community.
This is The Meliora Challenge. To succeed, we call upon the full measure of Rochester's intellectual and research capacity—and the vision and generosity of our alumni, parents, and friends. A campaign of this magnitude will be measured not only by its $1.2 billion goal, but also by its impact on our University, the city of Rochester, and the world.

Joel Seligman
President and Chief Executive Officer
G. Robert Witmer, Jr. University Professor