George Eastman Circle Scholarships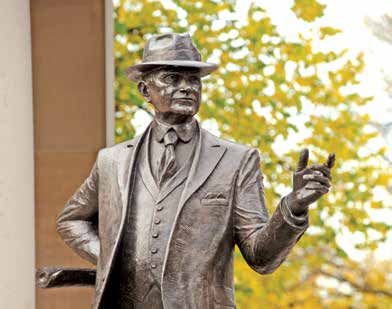 As a complement to our already established endowed scholarship program, the University of Rochester has launched a new current-use scholarship initiative as a component of The Meliora Challenge: The Campaign for the University of Rochester. George Eastman Circle Scholarships offer the opportunity to have an immediate impact on students, as the funds are disbursed to recipients soon after they are received.
With a minimum commitment of $5,000 annually for five or more years, these unrestricted scholarships can be awarded in your name or a name of your choosing. Furthermore, you may specify which school your scholarship supports. Should you wish to help students with even greater financial need, options exist to provide annual assistance at higher levels, up to the cost of a full year's tuition.
Because these scholarships are unrestricted, they count as Annual Fund gifts and qualify toward membership in the George Eastman Circle. In addition to receiving the benefits associated with George Eastman Circle membership, you will be invited to the University of Rochester's annual Celebration of Scholarships, which provides an opportunity to meet the students benefiting from your support and learn firsthand how financial aid has had an impact on their Rochester experience.
To continue to enhance the quality and diversity of our student body, the University increasingly must rely upon alumni, parents, and friends for assistance in providing financial relief to families facing the ever increasing cost of higher education. Scholarship support helps ensure that every qualified student, regardless of family finances, can afford to attend the University of Rochester. To that end, George Eastman Circle Scholarships are dedicated to building unrestricted funds that enable the University to successfully compete for future scholars and support current students who will enrich the intellectual community on our campus.
We invite you to help a deserving student by creating a new George Eastman Circle Scholarship. To learn more about how you can become part of this exciting and important program, please contact the George Eastman Circle office at (585) 276-5581 or click here.
Williams First in New Scholarships Program

As a component of the Campaign, George Eastman Circle Scholarships will complement the endowed scholarships program by providing the opportunity for individuals to have an immediate impact on a student's education. H. Robert (Bob) Williams '57E (MM), a Charter Member of the George Eastman Circle, is the first to create a scholarship through this new program.

To read about how Bob Williams is helping students at the University, click here. For more information on the George Eastman Circle Scholarships Program, you can read the pamphlet online here.