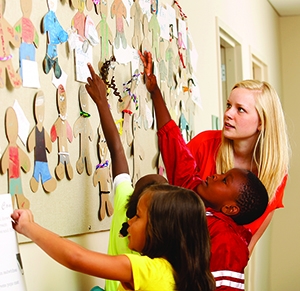 Carolyn Marthens '12, '13W (MS)
We've all had one—that favorite teacher who changes the way we think about learning, or makes it so much fun we stop thinking of it as learning altogether.
For a number of children who participated in the Horizons at Warner program, Carolyn Marthens '12, '13W (MS) is that teacher. And over the course of her promising career, she has the potential to unlock the love of learning for thousands more.
But what distinguishes the favorite, remembered teacher? In many cases, it's because they recognize students as individuals. And that is where Carolyn, Horizons, and the Warner School of Education all come together in a common philosophy of learning.
Horizons is a six-week, full-day summer enrichment program designed to turn reluctant learners into enthusiastic ones through an individualized approach that helps kids discover the fun and excitement of learning. In just three years, there has been demonstrated growth in math and reading skills and continually increasing attendance.
Just like some of the students in the Horizons program who don't know that they really love to learn, when Carolyn came to the University of Rochester, she didn't know she loved to teach. It is a testament to how the Rochester approach to learning is a voyage of discovery.
"I was an art history major, but I had the opportunity to study what I wanted," Marthens said. "I went really deep into it and went to Italy to study Renaissance art. And it turned out I learned how to learn."
That same principle is applied to children at Horizons. "A lot of teaching is figuring out how to channel the good energy, the curiosity, the inquisitiveness. I'm passionate about teaching because I'm passionate about giving every child the chance to realize that learning is the important thing."
In a sense, it's merely a matter of opportunity.
For Carolyn, that opportunity was created by Jeanine and John Cushman whose generosity established the Cushman Scholars in Education Fund. "I would not have come here without the help of the scholarship. I would not have been able to. I would have had to make another choice."
And Carolyn believes the opportunity for children to learn should not be limited by their school district or economic background—and in showing them that being an individual is the greatest of things. "Why not show them that just because you're not the same as everyone else doesn't mean you don't fit."
"I believe any child you change changes the world. There's a ripple effect."
In that case, Carolyn may just change the world thousands of times.
Click here to view Carolyn's video.